Insurance
For many people, their home is the biggest and most important investment they will ever make. Therefore, it makes sense to insure your property to prevent against unexpected and unavoidable financial disaster caused by fire, storm, burglary, illness or even death.
Intellichoice offers a comprehensive range of general insurance products to provide you with peace of mind and protect your assets and family.
Home Building Insurance
Your home is one of your most important assets. Building Insurance will ensure that if the worst should happen, you'll be covered to rebuild or repair damage done to your home.
Home and Contents Insurance
Home and contents insurance can be included with Building insurance, or purchased separately, but this depends on who owns the building and whose contents are in it. We will recommend a home and contents insurance policy that will provide you with peace of mind and offer protection against damage to, or the loss of, contents in your home.
Landlord Insurance
If you're a landlord and own a residential property that is being rented out, we recommend that you get landlord insurance. Landlord insurance will cover for malicious damage or theft caused by tenants, loss of rent if a tenant defaults, legal expenses and repairs or replacement of keys.
Life and Disability Insurance
Intellichoice has access to a range of insurance policies to protect those that you care most about - your family - in the event of death, illness or injury. A finance adviser from Intellichoice will recommend a policy that suits your needs and requirements to ensure that your family is protected if the unexpected happens.
Finance in Australia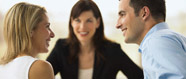 We will do all the legwork for you and help you find a home loan solution that suits your needs and requirements
Tax in Australia
There are various and tax incentives available to help reduce or eliminate your tax burden